WELCOME TO ABE'S SPRING STREET GUEST HOUSE & ARTIST ANNEX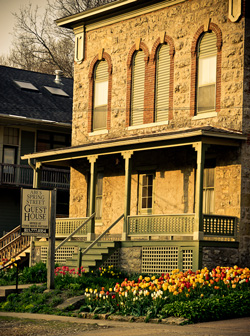 An artistic retreat in the heart of Galena, Illinois
Stay in historic Galena, IL
Built in 1876, Abe's Spring Street Guest House was once an icehouse for a prominent Galena brewery. The icehouse once stored up to 800 tons of ice harvested from the Galena River for the brewery industry. The building has 27-inch thick walls, which in its time was a great insulating factor. Next door to the icehouse is the Artist Annex, built in 2001, on the footprint of a once 3-story stone building originally built in 1850 as City Brewery. Two vaulted stone rooms are still intact to this day and reside in the back on the ground floor. The Artist Annex is home to 3 of our suites, PJ's Roost, Oreo's Hide-A-Way, and Emma's Corner.
---
Read reviews straight from our guests
Amazing Bed & Breakfast - Christopher N.
A Guest House of Artistic Inspiration - Kat B.