BREAKFAST HAS BEEN PERMANENTLY SUSPENDED
The safety and well-being of our guests and staff are the highest priority at Abe's Spring Street Guest House. We have decided to permanently suspend breakfast service. We apologize for the inconvenience.
During your stay, we will be providing limited housekeeping services, so that no one will be entering your room during your stay. Fresh towels and amenities will be replaced daily outside of your suite upon request as well as trash removal. We will continue with rigorous cleaning and sanitizing between visits.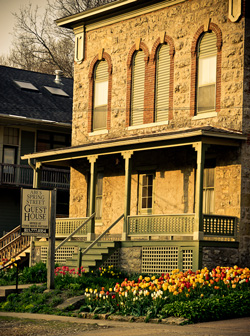 Welcome to Abe's Spring Street Guest House
An artistic retreat in the heart of Galena, Illinois
Stay in historic Galena, IL
Built in 1876, Abe's Spring Street Guest House was once an icehouse for a prominent Galena brewery, located adjacently, which now is home to Stone House Pottery & Gallery. The icehouse once stored up to 800 tons of ice harvested from the Galena River for the brewery industry. The building has 27-inch thick walls, which in its time was a great insulating factor.
---
Read reviews straight from our guests
Amazing Bed & Breakfast - Christopher N.
A Guest House of Artistic Inspiration - Kat B.